Update Alert
By: Falna
Resources
Add-on Releases (Version History)

About this add-on
Update Alert allows you to monitor web pages for updates, alerts you when there is a change and highlights new content. Ideal for sites that don't have RSS feeds or a subscription option!

You can start monitoring pages by right-clicking them, or click on the toolbar icon to manage them from a pop-out sidebar. Decide how often you want the pages to be checked, and configure optional pop-up alerts.

Updated pages include a header telling you when they were last scanned, with the option of changing their settings, plus a link to the page concerned.


Update Alert is a fork of Update Scanner by Pete Burgers.



Moving from Update Scanner or SiteDelta to Update Alert
If you already have Update Scanner or SiteDelta installed, it is possible to transition to Update Alert without loosing the pages being monitored. The scanning settings won't be moved though - the default settings will be used instead, unless you change them.


Update Scanner

In Update Scanner the pages are saved as bookmarks, so are easily moved in bulk:


Install Update Alert alongside Update Scanner


Open your bookmarks and choose 'Organize Bookmarks' (or just press Ctrl+Shift+B)


Expand the 'Bookmarks Menu' so you see the folders 'Update Scanner's Pages' and 'Update Alert's Pages'


Drag the bookmarks from 'Update Scanner's Pages' to 'Update Alert's Pages'


Quit the bookmarks and, in the browser, press the Update Alert button (or Alt+U) to display the sidebar


Edit the scanner timings from the default as required


Uninstall Update Alert



SiteDelta

Moving from SiteDelta can be done by dragging and dropping.


Install Update Alert alongside SiteDelta


Open the Update Alert pop-out sidebar using the Update Alert button (or via the menus)


Find the SiteDelta folder in your profile (In Windows C:\Users\Your user\AppData\Roaming\Moonchild Productions\Pale Moon\Profiles\Your profile\sitedelta). This contains one file for each monitored page


Copy the folder location


Paste the folder location into the navigation bar in your browser, and press the return key. You will see a list of all the SiteDelta files as hyperlinks


Open one of these links in a new tab. The contents will not be pretty, but will start with the address of the site - for example: <sitedelta><url>https://www.palemoon.org/</url>


Drag the address part - https://www.palemoon.org/ - to a new tab (or use Auto Text Link) and the page will open


Drag that tab to the Update Alert sidebar to start scanning the page (or use the context menu to Scan Page For Updates)


Repeat with the other links. If you have many, you may open them in batches with Multi Links Plus


Edit the scanner timings from the default as required


Uninstall SiteDelta


License
Preview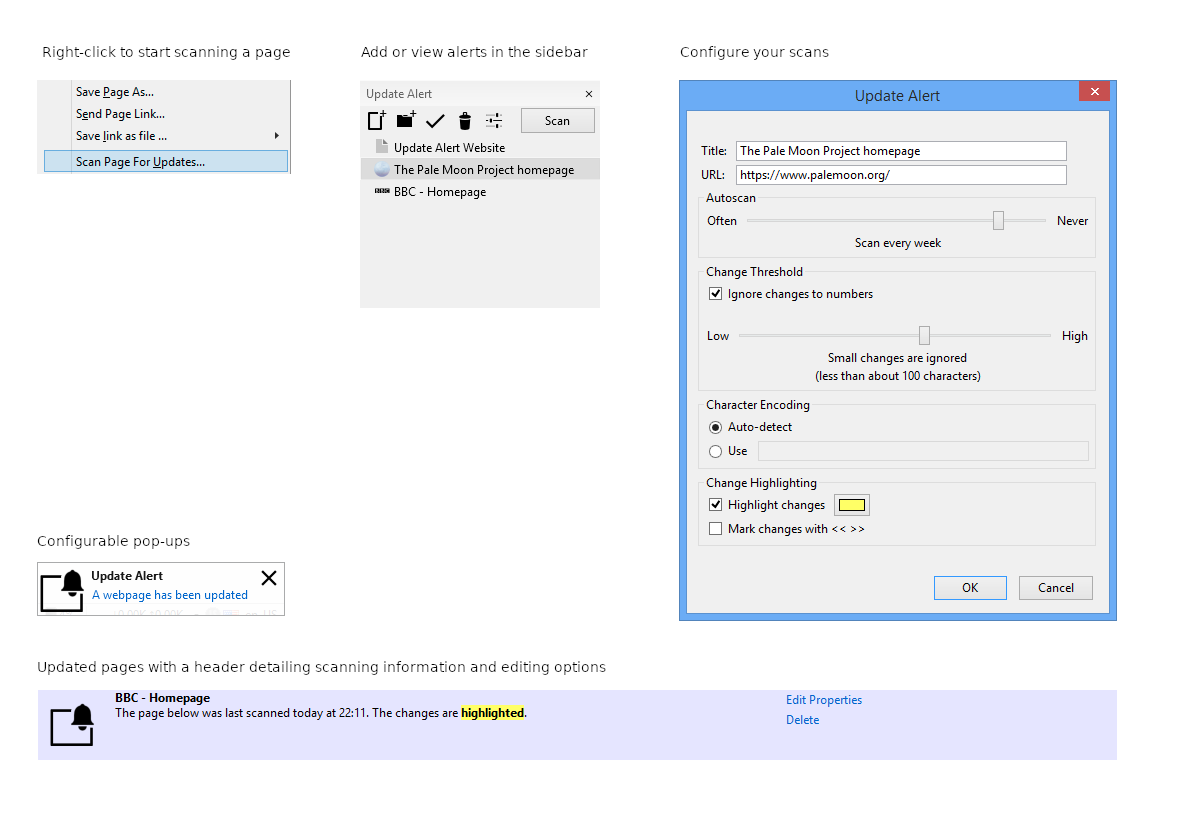 Version 1.4.2
Released: January 24, 2023