ThemeTool
By: riiis
Resources
Add-on Releases (Version History)
Add-on Homepage

About this add-on
Use persona/lightweight themes with most Pale Moon complete themes (restarting browser never required). Easily create your own custom personas/lightweight themes, with the related Theme Builder extension.

To avoid browser restarts, do not enable/disable/close light themes in the "Add-ons Manager" tab. Instead, use the enable/disable buttons in ThemeTool.

When adding a new persona/lightweight theme, the user may be prompted to restart the browser. To avoid browser restart, undo all theme changes in the "Appearance" section of the "Add-ons Manager" tab. Then, enable the new persona/lightweight theme using ThemeTool.

ThemeTool can be launched by selecting "Light themes" from the Pale Moon appmenu or tools menu, or by selecting the ThemeTool "Options" button in the "Add-ons Manager" tab.

Fork of the "Lightweight Themes Manager" extension by LouCypher.

License
Preview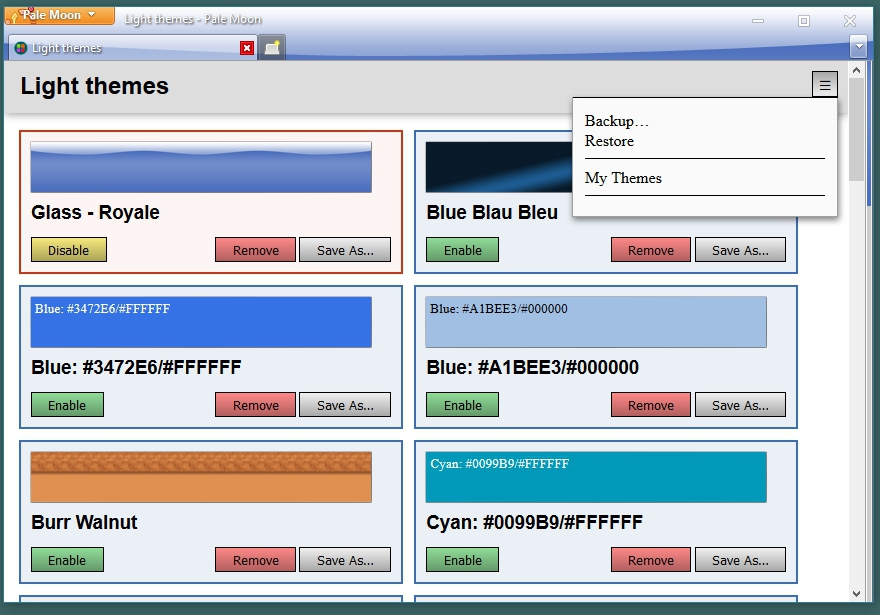 Version 6.2.0
Released: February 26, 2020