Stylem
By: Lootyhoof
Resources
Add-on Releases (Version History)
Support Site
Support E-mail
Source Repository

About this add-on
Got a website you want to the change look of, or a part of your browser you'd like to tweak? Style 'em with Stylem, the userstyle manager for Pale Moon, Basilisk, plus other XUL-based applications!

Stylem, forked from the last fully open source release of Stylish for Firefox (2.0.7), lets you create custom CSS files for any element of any website or any part of your browser. If you'd instead prefer to use pre-made userstyles instead, many can be found at userstyles.org and can be installed there by clicking the "Install Style" button on each listing. These are then listed in your Add-ons Manager (about:addons) and even receive automatic updates, if they get any. If you find any other CSS files you want to install from elsewhere, you can install these from the Add-ons Manager too, either by pasting the URL of the CSS file into the "Install from URLs" button, or by pasting the CSS itself into a new style. Unlike styles installed from userstyles.org however, these would not get any updates.

Usage of Stylem remains much the same as Stylish, and so for this you could check the help pages on userstyles.org for FAQs and general information. Internally however, a few things have changed such that extensions designed to work with Stylish may not work with Stylem and should be re-adapted where required.

If you are a previous user of Stylish, please disable or remove Stylish before using Stylem, as due to the way these both deeply integrate with the Add-ons Manager they are not compatible with each other and will result in issues. Any styles saved in Stylish will be transferred, as both Stylish and Stylem use the same storage format. Settings from Stylish itself will not be transferred however, as Stylem uses its own settings instead (extensions.stylem.* in about:config).
License
GNU General Public License 3.0
Preview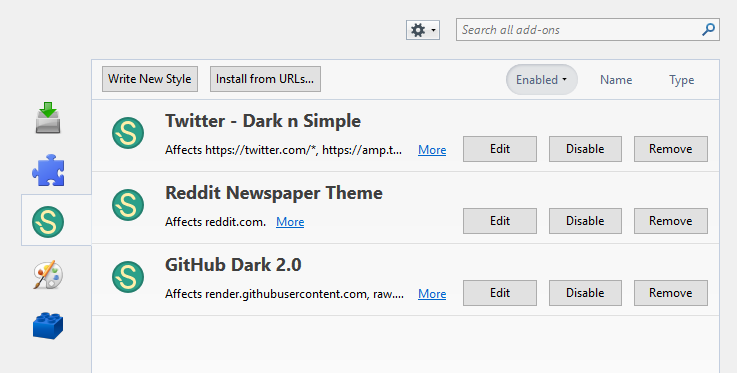 Version 2.2.9
Released: August 7, 2022