ScrapBook X
By: Danny Lin
Resources
Add-on Homepage
Support Site
Source Repository

About this add-on
ScrapBook X is a Pale Moon addon based on ScrapBook Plus and also integrating several features from the latest versions of ScrapBook.


Features
Save web pages faithfully: Web pages shown on the screen can be saved without losing any subtle detail. Time of saving and source URL are also recorded for later reference.
Save partial content: You can save partial web content. You can decide whether to save images, audio and video files, fonts, frames, styles, and/or scripts. You can decide how to process saved styles. You can edit the web content to your liking before saving. You can save the web page as a bookmark. ... And more ways for saving are available for you.
Extensive save: You can save web pages and files linked by the web page, save multiple opened tabs, save a list of pages using a URL list, ..., and there are more batch save functionality available for you.
Manage data: You can manage saved items with a tree structure, just as easy as managing the bookmarks.
Search data: You can search any fragment of the saved web pages with the built-in full-text engine.
Edit data: You can add highlights, comments, annotations, or even edit the source html for the saved pages.
Take notes: You can create note pages in ScrapBook, and edit them as easy as editing web pages.
Input and output data: You can combine multiple data items into one. You can generate HTML tree list and make a static scrapbook site. You can configure multi-ScrapBook databases that won't interfere with each other. You can import and export data items for backup or exchange.
Addons: Some addons can be integrated with ScrapBook to extend its power, such as these ones.
Installation
Simply download and install a desired version. If you are using ScrapBook or ScrapBook Plus, be sure to disable or remove them before using ScrapBook X, to prevent a possible conflict.


Usage
Feedback
Please report issues to the source repository as possible for better discussion and tracking.
License
Preview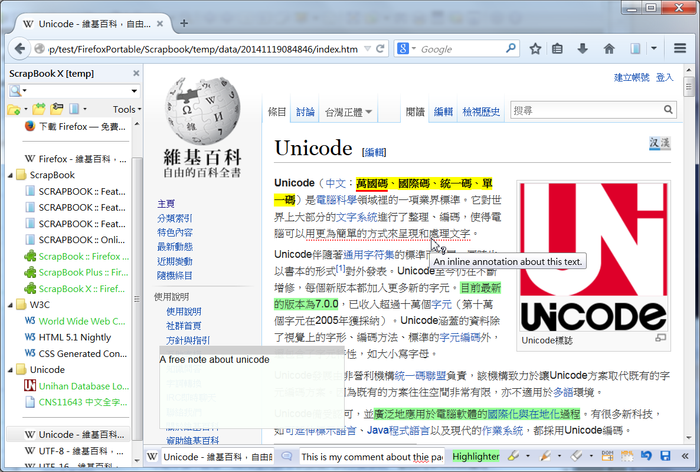 Version 1.14.5
Released: December 8, 2017