Open With Edge, IE, Chrome, and More
By: riiis
Resources
Add-on Releases (Version History)

About this add-on
Open links, pages, and bookmarks in Edge, IE, Chrome, and other browsers, using right-click context menus or toolbar buttons.

"Open With Edge, IE, Chrome, and More" is an extension designed for use only in Windows.

The extension automatically detects several popular browsers, based on entries in the Windows Registry. Portable browsers, and other browsers not automatically detected, can be added manually using the "Open With Edge, IE, Chrome, and More" options window. To undo changes to options, and restore defaults, delete related browser location or menu text. Then click "OK". All menus and browser locations, in "Open With Edge, IE, Chrome, and More", can be rewritten, replaced by other browsers, or hidden, by the user, using the options window.

To open a webpage in incognito private browsing mode, CTRL-click any Chrome, Internet Explorer, Vivaldi, or Opera menu or toolbar button. CTRL-click may also work in other browsers. Alternatively, enter incognito, private, or the appropriate argument in the options window, after the browser's location.

License
Preview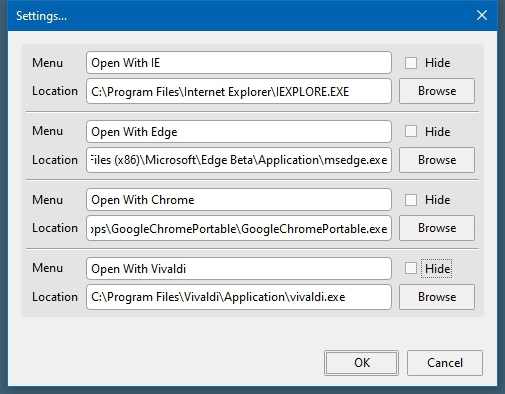 Version 4.1.0
Released: December 25, 2019