OpenDownload²
By: tux.
Resources
Add-on Releases (Version History)
Add-on Homepage
Support Site
Support E-mail

About this add-on
OpenDownload² adds a "Run" button to the "Save File As" dialog, similar to Opera and the Internet Explorer. When you press that button, the particular file will be saved to your temporary folder and opened with your default application or - in case of executable files - automatically executed.

This extension is the successor of Jeremy Gillick's outdated OpenDownload 1.0.0 extension, made compatible with recent Pale Moon versions and localized into a number of languages.

about:config options (optional; add them carefully if you wish):

extensions.openDownload2.downloadPath (string): Your desired download path. Please note that all files in that folder will regularly be purged - thus, you should not specify your Desktop directory. ;-)
extensions.openDownload2.deleteFinished (boolean): If you set this boolean to false, OpenDownload² will keep your executable files in your download list after calling them. This could be handy when used with add-ons like Download Statusbar.
License
Preview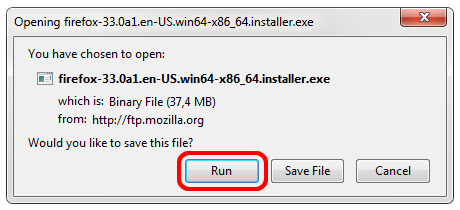 Version 4.2.1
Released: January 22, 2020