NoiaButtons
By: Aris
Resources
Add-on Homepage
Support Site
Support E-mail

About this add-on
"NoiaButtons" add-on adds cartoonish toolbar icons, known from Noia themes, to the default Pale Moon theme and is also fully compatible with Personas.

This add-ons toolbar buttons have a "fixed" size (like the ones on default theme). Switching between large and small icons inside Pale Moon settings only alters the space around them.

"NoiaButtons" only changes the main toolbar buttons and the bookmark button placed on personal toolbar.
License
Preview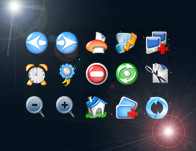 Version 1.1.2
Released: May 2, 2018