New Tab Links
By: Falna
Resources
Add-on Releases (Version History)

About this add-on
New Tab Links will automatically open links in new tabs using a long-left click and - optionally - using a normal right click. Ideal for anyone who likes to open links in new tabs, or those using touch-screen devices.

The add-on works with links, bookmarks, history items and images, but not JavaScript links (which will open in the same tab).


To enable the right-click function, use the options panel, available via the menu system or by pressing Alt+Shift-F2.


To enable/disable the extension, there's a button that you can drag to the toolbar (right-click on any toolbar and select 'Customize'), or a status bar button that can be added or removed via the options menu.


New Tab Links is a fork of Right Links by Infocatcher.



Advanced Options
There are some advanced options available under about:config :

extensions.newtablinks.showContextMenuTimeout : The timeout before context menu will be shown (in milliseconds). Use -1 to disable this feature.


extensions.newtablinks.longLeftClickTimeout : The delay for the long left-click (in milliseconds)


extensions.newtablinks.notifyOpenTime : Hide pop-up messages after this time is over. Use -1 to disable.


extensions.newtablinks.loadInWindow, extensions.rightlinks.loadInWindow.left : Open links in new windows instead of new tabs - but some features won't work!


extensions.newtablinks.filesLinksMask : Mask of links to files (use regular expressions).


extensions.newtablinks.filesLinksPolicy :
0 – don't check links
1 – open links to files in current tab



In addition, you can modify the hot keys for extensions.newtablinks.key.toggleStatus and forextensions.newtablinks.key.showSettingsPopup using one or more modifiers together with a key:

modifiers: control, alt, shift, meta, accel or os


keys: any character or special code
For example to enable Ctrl+Alt+R, use extensions.newtablinks.key.toggleStatus = "control alt R"
To disable the hotkeys, leave the preferences empty.

Note that :

Some combinations of key and modifiers won't work


Close and restart the browser to enable the changes
License
Preview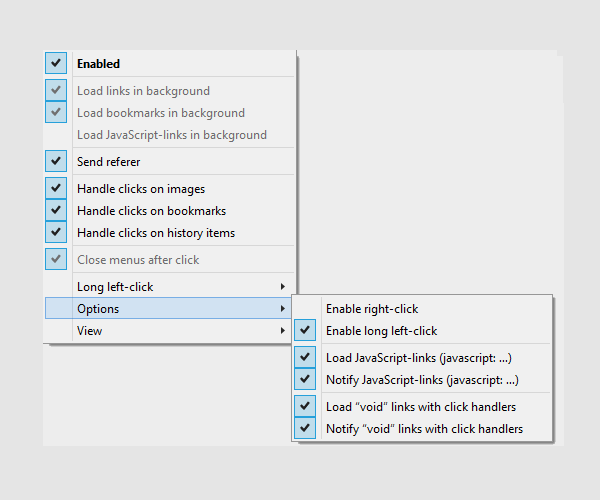 Version 1.1.1
Released: January 24, 2023