GlassMyFox
By: Aris
Resources
Add-on Homepage
Support Site
Support E-mail

About this add-on
GlassMyFox enables more AeroGlass effects on the default Pale Moon skin.

AeroGlass must be enabled in Windows 7/Vista!

Many menus, toolbars and windows are transparent but transparency is not possible everywhere.

Preferences

enable/disable Glass effects
enable/disable Glass effects and use custom tabs
enable/disable Glass effects and use "GMF tabs"
enable/disable Glass effects and use alt. tabs
enable/disable dropdownmenu black/white text colors/shadows
enable/disable toolbar black/white text colors/shadows
enable/disable white tab text
enable/disable higher tabs
enable/disable combined favicon/closebutton
enable/disable white toolbar buttons
enable/disable menu seperator
enable/disable higher bookmarks toolbar

Note

Use "Glass with custom tabs", if tab background is being altered by another extension.
Sometimes Windows doesn't allow dropdown menus to be transparent after installation. To solve this Pale Moon has to be restarted. Its not a bug of this extension, but how Windows renders "Glass" areas.

Transparent "New Tab"/"about:blank"/"about:newtab"
The "Stylish"-extension has to be installed and enabled (no need to setup there anything), because GMF uses its feature to make those pages transparent.

This addon only works on Windows 7 and Windows Vista, so don't try it on other OSs, it won't work.

Windows 8/10
Windows 8/10 does not offer AeroGlass by default, but 'Aero Glass for Windows 8/10' can restore old window transparency.
License
Preview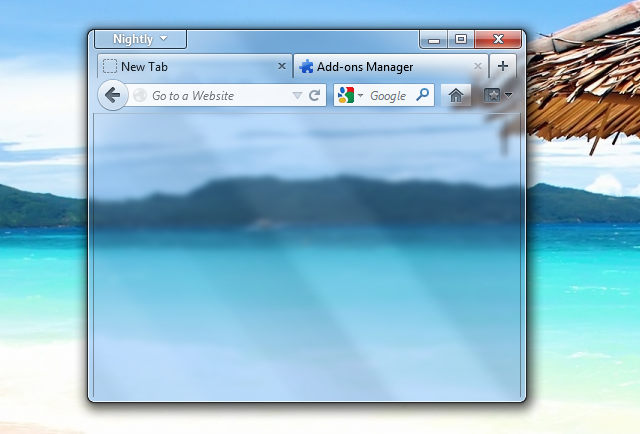 Version 1.3.4
Released: May 2, 2018