Sidebar Tools
By: riiis
About this add-on
Use drop-down menu to change from one open sidebar to another. Click the splitter (or use F4 key) to toggle sidebar open or close.

The following shortcuts are available:
Double click on sidebar resizer (at the inside edge of sidebar) to set default sidebar width.
Double click using right mouse button to set alternate default sidebar width (2X default sidebar width).
Middle-click on sidebar title to close sidebar.
Shortcut key F4 toggles sidebar open/close.
Shortcut key Ctrl+Shift+F4 opens the sidebar menu.
Shortcut key Ctrl+B (or Ctrl+I) opens the "Bookmarks Sidebar".
Shortcut key Ctrl+H opens the "History Sidebar".
Shortcut key Alt+K opens the "ScrapBook X Notes Sidebar", if ScrapBook X is installed and enabled.
Shortcut key Ctrl+J opens the "Downloads Sidebar", if Downloads: Show in Window, Tab, or Sidebar is installed, enabled, and the extension's "Show in Sidebar" option is selected.
Also see related extension Sidebar to the Right [Move sidebar from the left to the right side of the browser window].

This is a fork of the "Sidebars List" extension by Infocatcher.

License
GNU General Public License 3.0
Preview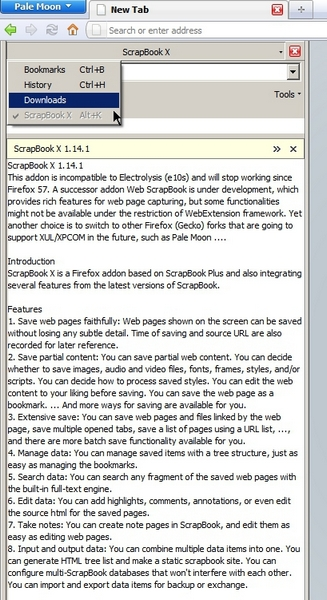 Version 1.1.0
Released: July 18, 2018